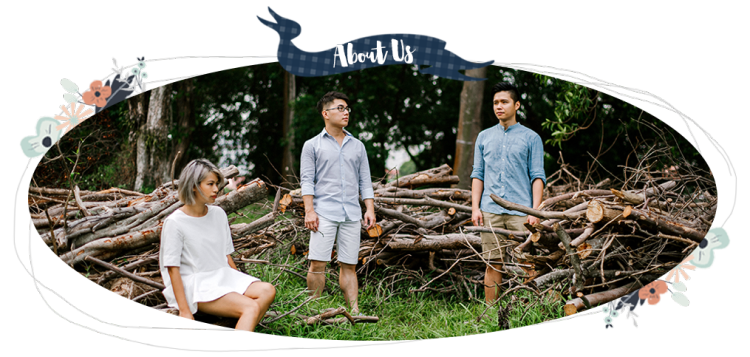 Bloc Memoire // blok mem'wa 
We are a small group of photographers who love documenting life with our camera and telling a story through a photograph. Bloc Memoire was started by Guan Hui 4 years ago, a self-taught photographer who is just simply in love with photography. Started from a pocket camera that eventually got bigger and cooler. He was asked to help his friend to photograph a wedding and that's when he discovered how much happiness and memories the photos could bring… He never look back since then. Soon after he noticed Silvia's hidden talent. She share the same passion for photography, she started taking photos of all the things he didn't see – strange and unique details, her own story. They complement each other's style and work together ever since!
After the good years together, they decided to make the family bigger! They wanted to share the awesome adventure to bring joy into the live of those around and how to make a difference! So, please welcome our newest family member, Wisanto Jiang. He has an eye for beautiful things and is a romantic at heart. He believes that each love story is very personal, significant, and unique. His photographic skills, passion and his courage to try new things make him a damn good photographer. 
Together we like to keep things real and relaxed, allowing our couple to be themselves on their wedding day, and to create timeless photographs that reflects the honest emotions, mood, and atmosphere of people coming together. We are inspired by people and their stories and we look forward to making more friendship on our journey. At the end of the day, we love a good food with friends. good conversations. genuine encouragement. because that is what we're all about…friends and family and love.
xoxo
Have you met Guan Hui?

He's a fun loving person, easy to talk to. He's a husband to his wife, Silvia..who encourage him to pursue his dream . He loves dad jokes and sci-fi. He's an iron chef, can cook a really good meal. He believe that the best inventions are microwave and air-conditioner. He like to try new lenses, especially the old ones. He's a dog person. He loves coffee, esp flat white, good coffee makes him happy. He's hungry all the time
Have you met Silvia?

She has a sweet tooth. She likes to decorate home or anything she can touch. She loves smiles, the big sincere one. She loves deep hugs. She loves the sea. She loves to dance to her favourite tunes. She may have a slight obsession with her fur-kid Bubu the Frenchie. She enjoys the times at weddings she gets to help the bride pin up her dress or laugh with groomsmen about mid-morning mishaps. She likes to wear black and grey. She loves spicy food, and she can eat thai food everyday
Have you met Wisanto?

Bring him potato chips, or anything sweet, and he will love you forever. He is secretly an awesome coffee barista. He sings pretty well, in the shower. He loves travelling, enjoying good food and spending evening with his loved ones. A little bit of a daydreamer. Well, every great thing starts with a little dream.
Have you met Bubu the Frenchie?

He loooooves people. He loves belly rub - has his humans very well trained. He loves apple and all the crumbs below the dining table. He loves a visits to the park. He likes to sneaking into his human's bed at night to sleep in between them and snore loudly. He is a yogie.